Great American Songbook Foundation
Summer Stock Screening
The Palladium
//
Tuesday, Oct 17, 7pm ET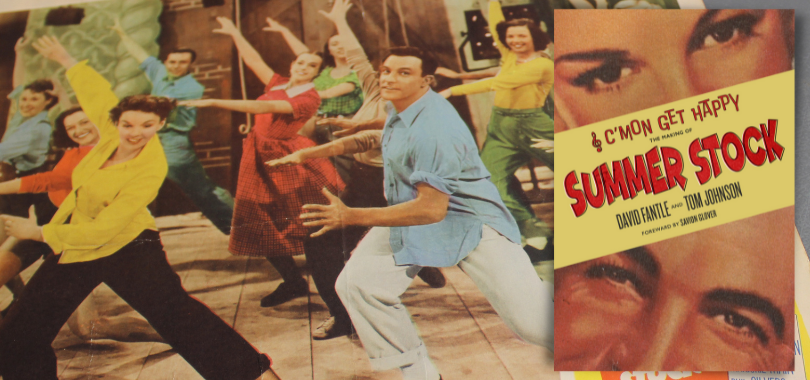 Event Details
Tue Oct 17 - 7pm ET
Register online for $10 general admission tickets.
For accessible seating or for groups of 10 or more, please email Tickets@TheCenterPresents.org or call 317.843.3800 to reserve a block of assigned seats.
About the event: The Great American Songbook Foundation will host a screening of the classic MGM film Summer Stock, starring newly inducted Songbook Hall of Fame member Judy Garland and Gene Kelly on Tuesday, October 17. Before the screening, visiting film historians and co-authors, David Fantle and Tom Johnson, will host a book signing opportunity in the lobby and give a 15-min. talk on their latest book C'mon, Get Happy: The Making of Summer Stock. There will be an opportunity for a brief Q&A with Fantle and Johnson after the screening.
Please note: The book will be on sale prior to the event at MacArthur Books, as well as onsite during the event. The authors will be available for signing when lobby doors open at 5:30 p.m.
Event timeline:
5:30 PM: Lobby doors open for book signing
6:30 PM: Book signing concludes
6:45 PM: Prescreening discussion with authors
7:00 PM: Screening begins (Q&A will directly follow the film)
About the authors: David Fantle, in collaboration with Tom Johnson, has been interviewing, writing, and speaking about Hollywood's Golden Age stars for forty-five years. Fantle is adjunct professor of film at Marquette University. Tom Johnson is former senior editor at Netflix and has written movie reviews and features for E! Online, Moviefone, and People magazine, among other publications. His entertainment writing has been recognized with a Minnesota Newspaper Association achievement award and a National Hearst Foundation award for news writing. Their previous title Hollywood Heyday: 75 Candid Interviews with Golden Age Legends was the recipient of several prestigious book awards.
About MacArthur Books: There's an indie bookstore in Carmel, Indiana! MacArthur Books, located in the center of the Village of West Clay, is open Monday - Saturday from 10 a.m. to 6 p.m., and Sundays from noon to 5 p.m. for instore browsing. Visit the store online or preorder C'mon Get Happy: The Making of Summer Stock to be shipped Oct. 16.
Parking and Accessibility
View the current parking map on our Parking page. Accessible parking spaces are available along Carter Green between the Palladium and the Tarkington and in the self-park garages. Street-level entry and elevator access are available in the Palladium's West Lobby at the 3rd Avenue SW entrance and also in the East Lobby near the Monon Greenway. Access further venue accessibility information.
Wheelchair-accessible seating is located in various sections of the venues. Aisle seats with moveable armrests to accommodate transfers are also available throughout the Palladium. All tickets for accessible seating may be purchased by phone at 317.843.3800, online and in person at the Fifth Third Bank Box Office.
Assisted Listening and Captioning
Assisted-listening devices are available free of charge on a first-come first-served basis and may be requested upon arrival by speaking with an usher or any Front of House staff. The film will be screened with captions for this event and a full transcript is available upon request by emailing info@TheSongbook.org by October 10, 2023.
Group Reservations
To help us better serve your group, please include the following details in your request when you email Tickets@TheCenterPresents.org or call 317.843.3800 to make your reservation.
 
Number of Tickets: Due to the expected popularity of this program, groups are limited to 20 tickets.
Bus Parking: Pre-arranged bus parking is available in the loading dock and on 3rd Avenue. The best location for bus drop-off is along 3rd Avenue SW near the West Lobby/Fifth Third Bank Box Office. 
Accessible Seating: Please note need for wheelchair accessible seating for group members.
---