Great American Songbook Foundation
Songbook Archives Day Open House
The Palladium
//
Thursday, Jun 9, 11am ET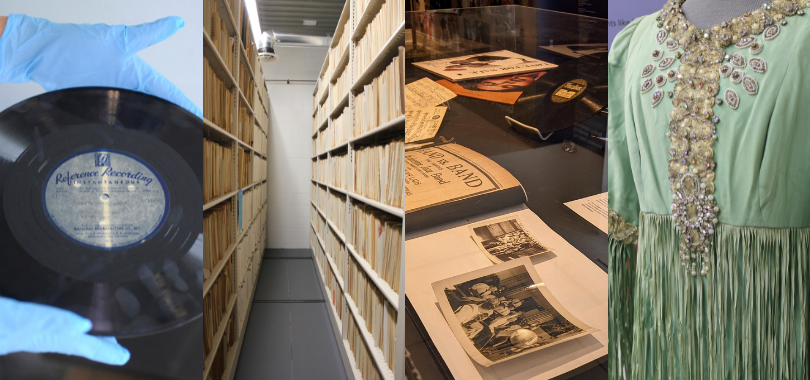 Event Details
THU JUNE 9 from 11 am - 4 pm
Tweet #share

The Great American Songbook Foundation and its Songbook Library & Archives team will be joining the international archives community in celebrating International Archives Day on June 9 – and you're invited! 
Our Archives staff will be onsite at The Palladium at the Center for the Performing Arts from 11:00 a.m. to 4:00 p.m. on Thursday, June 9, with special presentations and activities scheduled throughout the day. Please complete this free registration to receive location and program details in advance!
Hourly presentations will include:
11:30 a.m.: "What Does an Archive Actually Do?" – Emily Rapoza, Director of Library & Archives

12:30 p.m.: "What Happens Without an Archive?" – Emily Rapoza, Director of Library & Archives

1:30 p.m.: "All About Arrangements" – Anna LoPrete, Music Librarian

2:30 p.m.: "How to Use an Archive" – Emily Rapoza, Director of Library & Archives

3:30 p.m.: "Mini-Concert from the Collections" – A special preview performance by Olivia Broadwater and other members of the cast of the upcoming local production I'll Be Seeing You: Love Stories of World War II, premiering June 11 at the Palladium.
*Presentation schedule subject to change; registered guests will receive a final program details the week of the event.
Directions & Parking: All walk-up visitors will be encouraged to enter The Palladium at The Center for the Performing Arts, 1 Carter Green, Carmel, through the East Lobby entrance, which faces the monon trail and Hotel Carmichael/City Center area. Access a map of the campus and parking information.
For more specific arrival and location details, registration is highly encouraged.
Make an impact: We are thrilled to offer this program free to the public. Please consider supporting future programs like this by texting "SONGBOOK" (all caps, one word) to 91999 or visiting TheSongbook.org/Donate. Click here to donate now.
---