Today's Song: "Can't Help Falling in Love"
November 21, 2023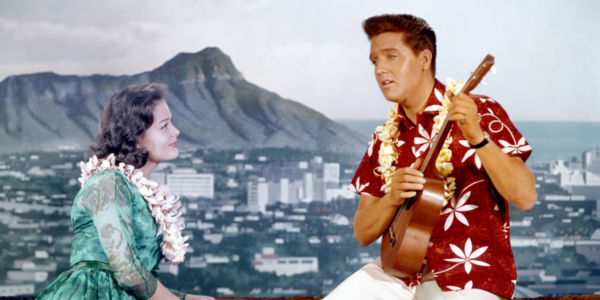 My All-Time Greatest Songs
By Songbook Volunteer: Dick Schwartz
"Can't Help Falling in Love"
You may know that in 1961 Elvis Presley starred in a popular movie called Blue Hawaii. The film introduced a song called "Can't Help Falling in Love." Songwriting was attributed to Hugo Peretti, Luigi Creatore, and George David Weiss. Over the years, the song became a world-wide classic and one of the most popular wedding first-dance tunes ever.
You may not know that the melody for "Can't Help Falling in Love" is based on a plaintive French love song called "Plaisir d'Amour." That song was composed nearly two hundred years earlier in 1784 by Jean-Paul-Egide Martini. It may seem incongruous for a love song, but the original French lyrics emphasize the pain of romantic love, as in the repeated line "The pleasure of love lasts only a moment, the grief of love lasts a lifetime."
"Plaisir d'Amour" has been recorded by numerous artists, including Nana Mouskouri, Joan Baez, Mary Hopkin, Paul Robeson, Marianne Faithful, Beverly Sills, Andrea Bocelli, The Seekers, and Placido Domingo.
Elvis Presley's version of "Can't Help Falling in Love" topped the British charts in 1962, spending four weeks at number one. In the U.S., the song peaked at number two on the Billboard Top 100 behind only Joey Dee and the Starliters' "Peppermint Twist."
During Elvis' late-1960s and early 1970s concerts, he performed the song as the finale. He sang it in the live segment of his 1968 NBC television special and as the closer in his final television show "Elvis in Concert." And, it was the last song that Elvis performed live, at what would be his final concert, at Market Square Arena in Indianapolis on June 26, 1977.
In 1993, British reggae band "UB40" released a version titled "(I Can't Help) Falling in Love." It spent seven weeks on the U.S. Billboard Top 100, including two weeks at number one.
In May, 2002, "A-Teens" (originally "Abba-Teens," formed as an Abba tribute group) released a single version of "Can't Help Falling in Love." That song was featured on the soundtrack of the Disney animated movie "Lilo and Stritch." This rendition has appeared on various Disney song collections and videos. Thus, a new generation knows it as "the Lilo and Stritch song." (There are two video versions available, one with clips from the Disney movie and one without.)
For me, spending time with this almost-magical melody has been a joy. With its popularity extending almost 240 years, I now proudly claim it as one of "my all-time favorites."