Juneteenth Music Celebration Guide
June 18, 2021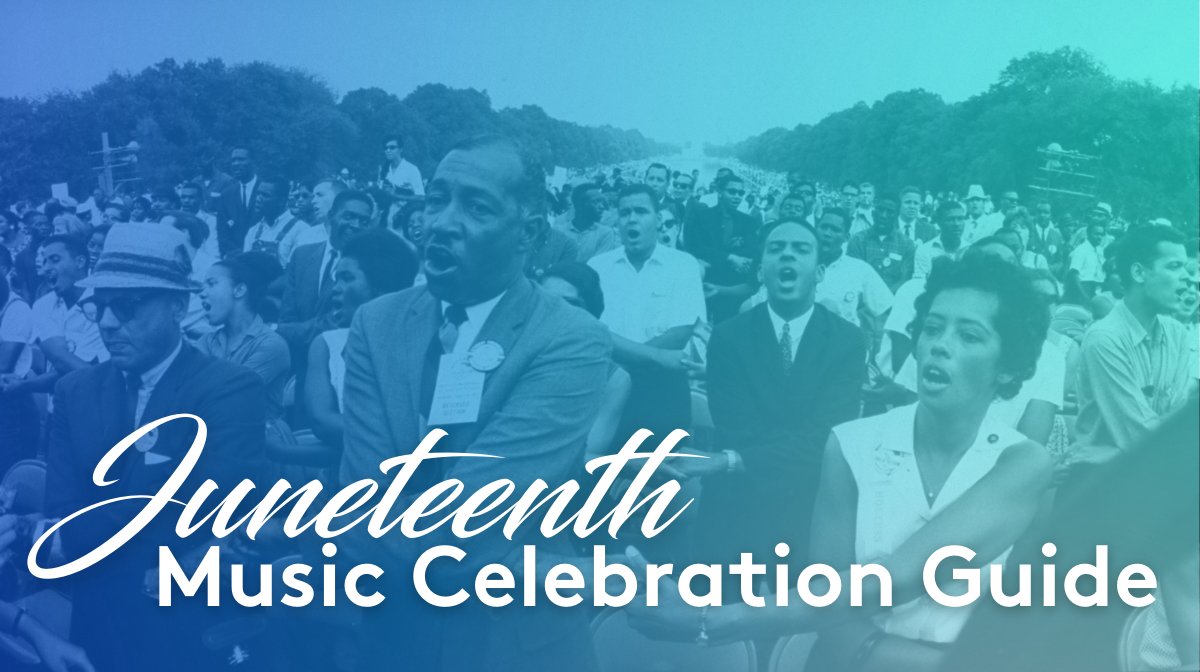 "An artist's duty, as far as I'm concerned,
is to reflect the times."
- Nina Simone
On June 17, 2021 President Joe Biden signed a bill recognizing Juneteenth as a federal holiday. What is Juneteenth? For a brief answer, we turn to History: Juneteenth (short for "June Nineteenth") marks the day when federal troops arrived in Galveston, Texas in 1865 to take control of the state and ensure that all enslaved people be freed. The troops' arrival came a full two and a half years after the signing of the Emancipation Proclamation. Juneteenth honors the end to slavery in the United States and is considered the longest-running African American holiday.
Juneteenth is a holiday that offers an opportunity for Americans to reflect and reconcile the darker moments in our nation's history. The GRAMMY's said it best: "Every year on June 19, Black communities nationwide continue to gather for food, fellowship and conversations about history while honoring the resilience, rejuvenation and joy our ancestors felt when they finally gained their freedom."
It's only natural to start this music list with a song from Louis Armstrong and His Friends:
 Virtual Events
National Museum of African-American Music
Museum dedication and other black music month events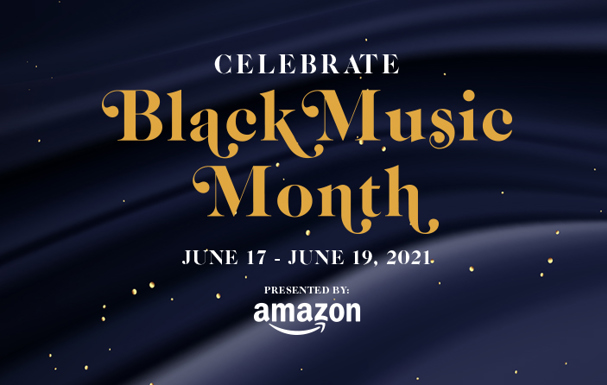 The National Museum of African-American Music opened its doors in Nashville, TN Labor Day weekend in 2020. It is the first and only museum that is dedicated to celebrating all styles of Black music. During June 2021, they have hosted events for Black Music Month including the Celebration of Legends honoring the Fisk Jubilee Singers, Chaka Khan, Lionel Richie, Smokey Robinson, and Quincy Jones.
Celebration of Legends Full Show
NMAAM will officially commemorate the success of the museum's opening with a special dedication ceremony. Featuring local and state dignitaries as well as a surprise announcement, this event will confirm the museum's place as a national cultural institution and authority in Black music.
June 19 at 8:00am ET
The Broadway League
Broadway celebrates Juneteenth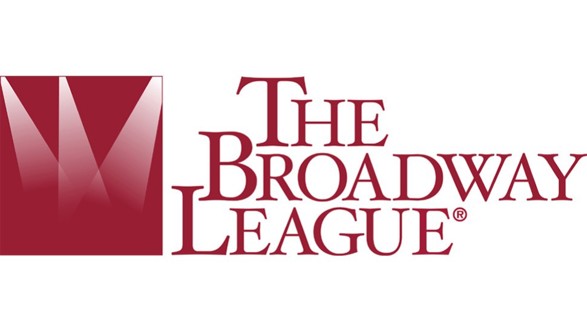 The Broadway League will present a free outdoor event centered around Black joy and unity that will feature Black Broadway performers in a 90-minute concert with live music provided by The Music Performance Trust Fund. Broadway Celebrates Juneteenth is free and open to all to join in this celebration, including those who identify as Black, their allies, and anyone who feels a connection to this holiday. MAC Cosmetics and Broadway Cares/Equity Fights AIDS are the event sponsors with the support of the Times Square Alliance.
In addition to the previously announced special appearances by Lillias White, who will be hosting, and Ben Vereen, the program will include performances from Broadway stars including: Lawrence Alexander with Gary Cooper and Jaquez Sims; Jacqueline B Arnold; Nick Rashad Burroughs; Bongi Duma; LaVon Fisher-Wilson; Amber Iman; André Jordan with Ravi Best on trumpet; Crystal Joy; Stanley Martin; Anastacia McCleskey; Ray Mercer & Lion King Cast Members; Janinah Burnett with Keith Brown on piano; Keenan Scott II, Britton Smith & The Sting; Kimber Elayne Sprawl with Matthew Frederick Harris, Marc Kudisch, Tom Nelis, and Austin Scott; and Richard Riaz Yoder.
June 19 at 12:00pm ET
Robert Randolph Foundation
juneteenth Unityfest
Juneteenth Unityfest will bring together diverse voices in a commemoration and celebration of one of the most important events in Black history and American history. People of all backgrounds will have the opportunity to learn about Juneteenth and its legacy via musical performances, inspiring remarks, films, comedy, storytelling, and appearances by civic leaders and influencers. Including performances from India.Arie, Earth, Wind & Fire, Nile Rodgers and CHIC, Darius Rucker, Dave Matthews and Carter Beauford, and more. Click here to tune in.
Saturday, June 19 at 5pm ET
Live with Carnegie Hall: Juneteenth Celebration
All-American Freedom Day: Only Together Are We Free
Live with Carnegie Hall 2020 Juneteenth Event
Rev. Dr. James A. Forbes Jr. leads this celebration—along with Tamara Tunie, and special guests Martin Luther King III and Annette Gordon-Reed—to recognize the importance of this historic day and to acknowledge the long road still ahead. In addition to music, dance, and commentary, the evening also recognizes contributions made by prominent African Americans today: Bryan Stevenson, founder and executive director of the Equal Justice Initiative; Robert F. Smith, businessman and chairman of Carnegie Hall's Board of Trustees; and Congresswoman Sheila Jackson Lee. Click here to tune in.
Saturday, June 19 at 7:30pm ET
WNYC New Standards Juneteenth Special
In celebration Paul Cavalconte presents 4 hours of Black artistry on this weekend's Saturday Show. Join him for a century-plus of music performed and composed by the great African American artists of The American Songbook and beyond! 
June 19 at 8pm-12am on WNYC
Local Indiana Events
Indy Juneteenth Celebration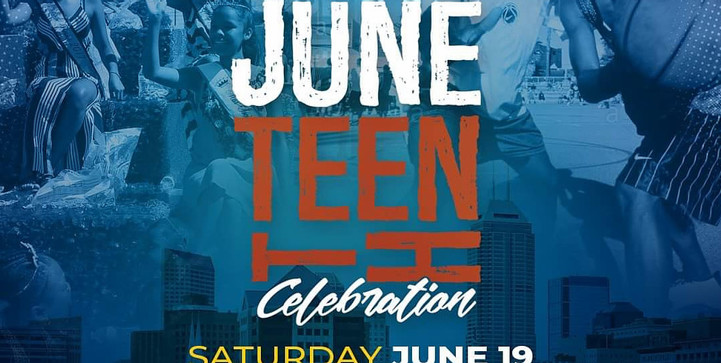 Indy Juneteenth is a nonprofit organization started by James and Twjonia Webb whose mission is to improve the quality and narrative of life around the black community in the Indianapolis area by creating avenues for celebration and economic growth through unique events and programs designed to celebrate and educate regarding the Juneteenth holiday and other under-served Black American holidays. They provide a platform from which local black businesses can benefit from their own community; to educational opportunities in Black History. Click here for more information.
Jun 19, 12:00 PM – 6:00 PM EDT
Riverside Park, 2420 E Riverside Dr, Indianapolis, IN 46208
The Children's Museum
Juneteenth Jamboree

Live performances:
Freetown Village Singers:

 

Experience vibrant vocal performances from Freetown Village, a living history museum representing the men and women of the many African American communities throughout Indiana in the years following the end of the Civil War.
Griot Drum Ensemble:

 

Enjoy energetic and engaging percussion music as the Griot Drum Ensemble performs authentic, traditional West African and Diaspora drumming.
Storytelling by Portia Jackson:

 

Learn about the significance and history of Juneteenth with storyteller Portia Jackson as she shares some of her favorite Juneteenth memories. 
Activities and giveaways:
Classic summertime yard games: Giant Jenga, tug of war, cornhole, and more!
Symbols of Freedom: Discover symbols of freedom from around the world as you decorate your own bandanna.
Murals for Justice: Explore reproductions of The Murals for Racial Justice project on display and experience being a muralist.
Museum giveaways: While supplies last.
Saturday, June 19 at 10am ET
Click here for more information
Conner Prairie
Jubilee!: a celebration of juneteenth
Join Conner Prairie June 18-20, 2021 as they celebrate and share the history behind Juneteenth.
They will have picnic blankets placed throughout the grounds to encourage discussions about freedom and community relating to the Juneteenth Holiday. Please sit, enjoy a meal, and reflect on the celebration of Juneteenth.
Find more Hoosier Juneteenth events
Tweet #share