Indiana Country & Folk
February 24, 2021
Indiana's history of country music starts in the late 1920s, when future radio and movie stars The Hoosier Hot Shots formed on a farm in Arcadia. The Wright Brothers Band, formed in French Lick around 1972, hit it big in 1982 with "Made in the U.S.A." while Janie Fricke (1947-), born in South Whitley, had a string of country music hits in the 80s. And Steve Wariner (1954-), from Noblesville, did the same as both a singer and songwriter in the 90s. 
Spotlight: The Hoosier Hot Shots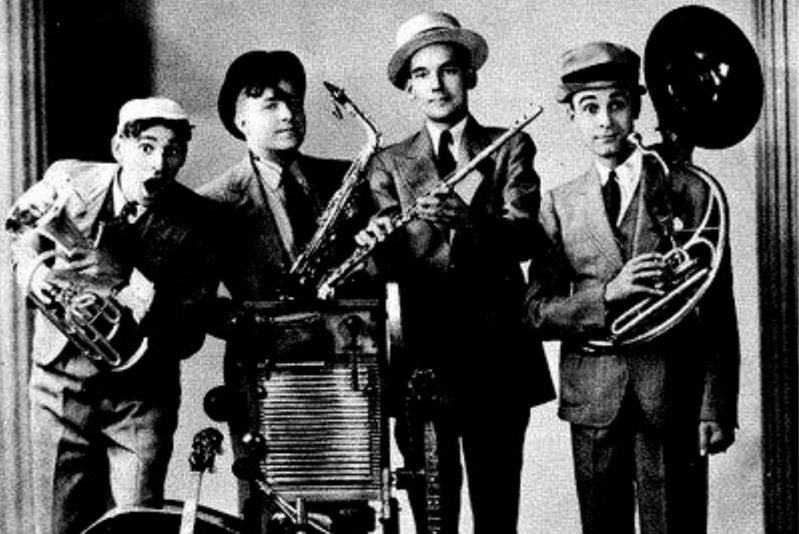 Sometimes referred to as Midwestern Rural Jazz, or just "cornball", the sound of The Hoosier Hotshots was rooted in the groups' rural upbringing. Kenneth and Paul "Hezzie" Trietsch, Charles Otto "Gabe" Ward, and Frank Kettering formed what would become one of the first and most successful novelty bands of the 20th century. Initially, the group earned regional success as regulars on the National Barn Dance radio show that broadcasted from Chicago. In 1934, they began a recording career that influenced Spike Jones and "Weird Al" Yankovic. They appeared in more than 20 movies alongside Gene Autry, Dale Evans and others. During World War Two, they toured North Africa and Italy with the USO. Ken's signature kickoff to their shows, "Are you ready, Hezzie?" became part of the American vernacular.
More mainstream folk-influenced Hoosier artists explore old sounds in the modern world. Carrie Newcomer (1958-), who grew up in Elkhart, has won multiple awards for her complex, intimate songwriting. Born in Dowajiac, Michigan in 1958, Carrie moved to Elkhart, Indiana with her family when she was five. She began writing songs as a teenager, performing in local coffeehouses and at festivals. She earned a B.A in visual art and education at Purdue University, but decided to pursue a songwriting career in folk music. Newcomer has been described as a "Prairie mystic" for her songwriting that weaves the sacred and the secular together. Her extensive travels include performing in Kenyan AIDS hospitals, the Middle East and India, where she served as a Cultural Ambassador.  
Gospel music is an important part of Indiana's history too. Bill (1936-) and Gloria (1942-) Gaither met in Bill's hometown of Alexandria. Awarded many times over, the Gaithers are now important mentors to a new generation of gospel singers.  And although renowned gospel singer Sandi Patty (1956-) was born in Oklahoma, she has strong Hoosier roots – she attended Anderson University, has hosted the Indianapolis Symphony Orchestra's Yuletide Celebration several times, and is a former Songbook Academy mentor!
Listen to the Great Indiana Songbook playlist
Spotlight: Crystal Gayle
Crystal Gayle (1951-) was born in Kentucky but grew up in Wabash. She is the youngest sister of honky-tonk star Loretta Lynn.  Loretta's early success inspired Crystal to pursue a career in country music as well; although the sisters often worked together and shared songs in the early Seventies, Crystal only made her true breakthrough when she branched out into her own, more mainstream, style. 
Her signature 1977 hit, "Don't It Make My Brown Eyes Blue," won her a Grammy award and has been recognized by ASCAP as one of the ten most-performed songs of the twentieth century. We Must Believe in Magic, the album it appeared on, was the first record by a female country singer to be certified platinum. 
Learn more about Hoosier artists 
Tweet #share